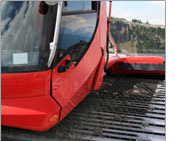 Enduratrack.com is your premier source for rubber tracks for utility vehicles including all major snow machines & groomers.
Our tracks are built using premium quality rubber belting for cold weather service and our fabric plies are specially weaved to improve fastener holding.
Available in cut to order lengths specifically for your machine or in bulk rolls. Available with holes punched or un-punched.
Standard widths of 8" & 12" and custom widths to suit your needs.
We can supply tracks for all styles of machines including Bombardier, PistenBulley, Prinoth, Tucker, All-track and more.